12.11.2022
Register Your Car Dealership on Google Business Profile
Register Your Car Dealership on Google Business Profile
Google Business Profile (f.k.a. Google My Business) is a free tool provided by Google that allows a business to manage its profile across Google. This is a tool that is especially useful for local google search and google maps because it allows you to focus your presence in specific service areas. This could be especially useful for dealerships, where you are most likely looking at focusing on a local audience, rather than a country-wide audience.
What is Google Business Profile (f.k.a. Google My Business)?
As a tool from Google, Google Business Profile allows you to edit what people see when they look up your business on Google Search. When you list your business on Google Business Profile, this allows your business to turn up on Google searches, and especially in Google Search Engine Results Pages (SERPs). This means that you can use your Google Business Profile to pop up when people make local searches (i.e. searches that have words like "near me" or "in my area" or "local" within them.).
These SERPs can come in many forms, like pictures, text FAQs, a question and answer, but one of the more obvious is a column down the side.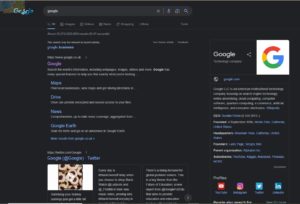 These are very useful places to appear on, since if your business appears on these SERPs, it can lead to a click through rate (CTR) of over 39%. This is more than double of even reaching position 2, and is an amazing opportunity to introduce people to your brand and get more traffic.
Google Business Profile offers more than just visibility though, it can help reduce the barriers to customers completing the goals you may wish them to complete. Do you want them to call? Then put your number there. Do you want to sell a product? Well list the product with a link to the product on your website. Do you want them to leave a review after using one of your services? Google has reviews linked to your GMB account. These reduce the number of steps a potential customer has to take to interact with your website.
Set up a Google Business Profile
1 – Claim and Verify Your Business
When you log onto Google Business Profile with your Google account (it has to be a Gmail account), the first thing you need to do is verify your own business. If your business is not listed, then you can type in the name of your business and register it, filling in information about the business like type, category, address etc. You must let Google know if your business doesn't have a physical address, for example if it is online only, or if you travel within a certain area but don't have a physical store.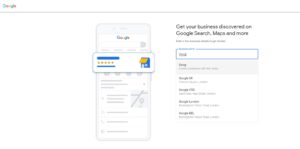 When you claim or verify your business, Google will then need to send one last verification. This can be done a number of ways, including through Google Search Console, but the most common way is that Google will send a business card to your physical address. This card is used to verify your business address.
2 – Fill In Details
When you've done this, your business is verified and you have your business profile up and running, you need to make sure that your information is complete and accurate. We recommend that you create a document with your details like business name and address, because you want these details to not only be accurate, but also be able to copy these details in the exact same way across other listings and directories on the internet.
3 – Add Products and Services
Google my business also allows you to add products and services to your profile. This allows options for your business to add more detail about what is on offer to people while they are still on Google, so if you have a product that they like, then they already know you sell it. People can browse your products and services directly from Google and go straight to the eCommerce pages of your website, rather than getting lost in other parts of the website. This could be particularly useful for a dealership that sells a particular brand of car, for example, because it means that these product listings could pop up on an SERP for a search about the brand/style of car as well as for local searches or searches about your dealership.
4 – Add Photos of Your Business
A good way to make sure your business does well on Google Searches is to make sure pictures of your business, services and/or products appear in Google search. Having pictures that you've added helps give the customer an idea of what they are looking for. It also increases the likelihood of people clicking through to your website.
SEO Uses for Google Business Profile
One quite useful advantage of having your business listed on Google Business Profile is that you can use this in combination with other well known directories and business listing to increase your visibility on Google (and not just through SERPs). When you list your business on other large websites like TripAdvisor (if your business is relevant for those on holiday in your area), Facebook and Yelp. These websites are very popular on their own and have large audiences that you can get word of your business across to, but Google also indexes these sites, and a consistent brand across all these sites can help boost your business when people look for a service you offer near them.
A quick word of warning though – your details have to be exactly the same for this to work, which is why we recommend having all your business details on a separate document. Even changes like writing Street instead of St. work against you when it comes to Google search results ranking.
If you want more information on how Google Business Profile can help your dealership, or if you want a professional agency to take care of SEO for you, contact DealerBuzz today. We can help you with your GMB listing and we can optimise your profile for you so you have the best chance of gaining more leads through Google Search.